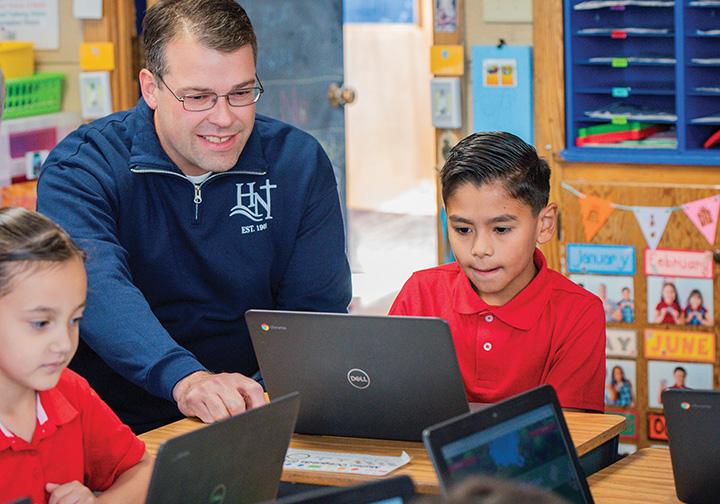 at Moira Carlins
moira.cullings@theleaven.org
Kansas City, KS — Start with Wi-Fi.
A parishioner in Dan Norman a few years ago. The Diocese of John Paul II in Olathe is looking for technology-related volunteer work.
He asked at the time if Father Andrew Stroble, pastor of Holy Name Parish in Kansas City, Kansas, was aware of any opportunities.
Father Stroble told Norman that the Holy Name School needed help with some Wi-Fi issues.
"The Wi-Fi problem is an understatement," Norman said with a smile.
When Norman arrived at the school, he realized its technical problems were even more daunting.
But he was helpful.
Since his first visit in 2016, Norman has reconnected the entire school, replaced old computers with Chromebooks, and helped with several small projects.
"Dan has been a godsend to our school," Holy Name principal Randy Smith said. "His knowledge and desire for what is best for our children in the Holy Name have not gone unnoticed."
Tech genius
Shortly after Holy Name began his volunteer work, Norman joined the school's business team—a community of volunteers from the archdiocese who used their talents to serve the school.
Holy Name's business team is a product of the Archdiocese's School Development Program (SAP), which is designed to help schools – especially those in rural and urban areas – increase enrollment and sustainability.
The archdiocese currently has nine SAP schools, and business teams like Holy Name not only help them survive, but thrive with the help of volunteers like Norman.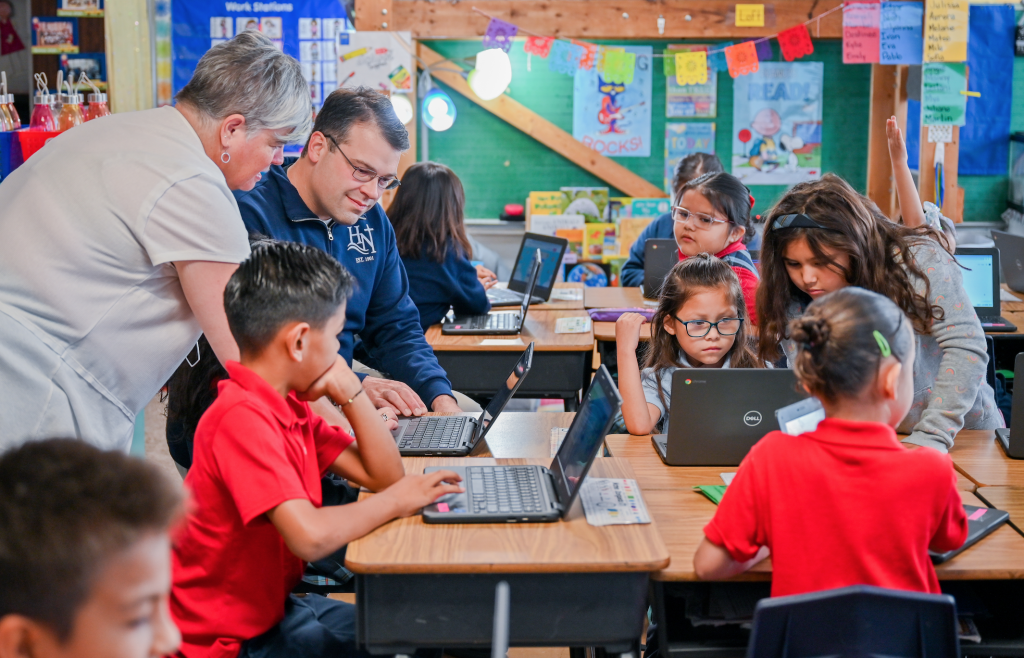 Beginning in 2016-17, Norman worked to stabilize the school's technology and make it work as much as possible.
In the summer of 2018, Norman said, he and a small group of volunteers realized they were "just putting a Band-Aid on things."
"If we're really going to get over this," he thought, "we're going to have to tear down all the old infrastructure so we can get Wi-Fi on campus and be ready for the next 20 years."
Starting in 2018-19, Norman was helped by then-Principal Amanda Vega, Pastor Anthony Ouelette, several teachers and some St. Petersburg. John Paul II's Knights of Columbus began work.
"At the time, we took out old network cables, phone lines — things from different eras," Norman said.
Ultimately, the group secured funding to buy cables and new networking equipment.
"With this, and with my time and some other volunteers, we were able to rewire the entire building that year," Norman said, "and get all the systems back to normal."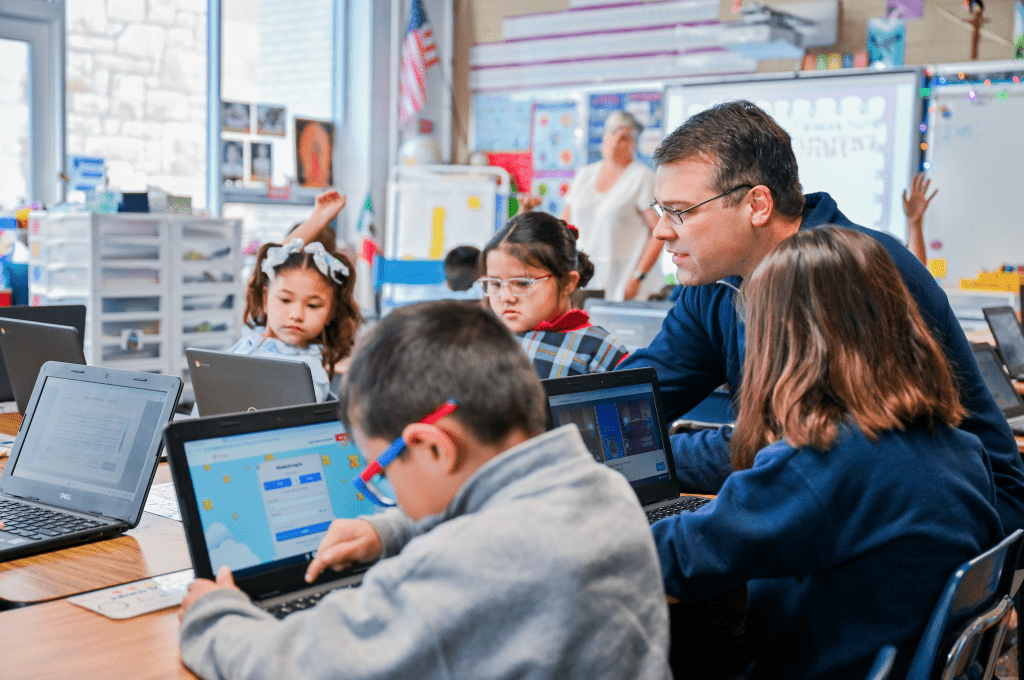 Norman also helped the school secure a grant to buy 60 Chromebooks, and this year, Holy Name received more Chromebooks from the government as part of the COVID-19 relief bill.
Norman was then able to add ChromeOS to the school's existing computers, which could also be restored.
Smith says Norman's work is the best he's ever seen.
"I've worked in several schools throughout my career," he said, "including an award-winning public school district that spent millions of dollars on infrastructure and technology projects.
"With Dan's help, his leadership and the volunteering of his time, the technology infrastructure we have at Holy Name is the best I've ever used."
deep appreciation
Norman's efforts to keep the school's technology running smoothly have not gone unnoticed by Holy Name students.
"We thank Mr. Norman for his help," said eighth-grader Felicity Pesina. "We can do our job by using our updated information on the great working internet."
Eighth-grader Arya Hernandez agreed.
"We have some great Chromebooks that never fail, which allows us to learn with them," she said. [it] Also helps our teachers grade and give us online assignments.
"We are very grateful to Mr. Norman for helping."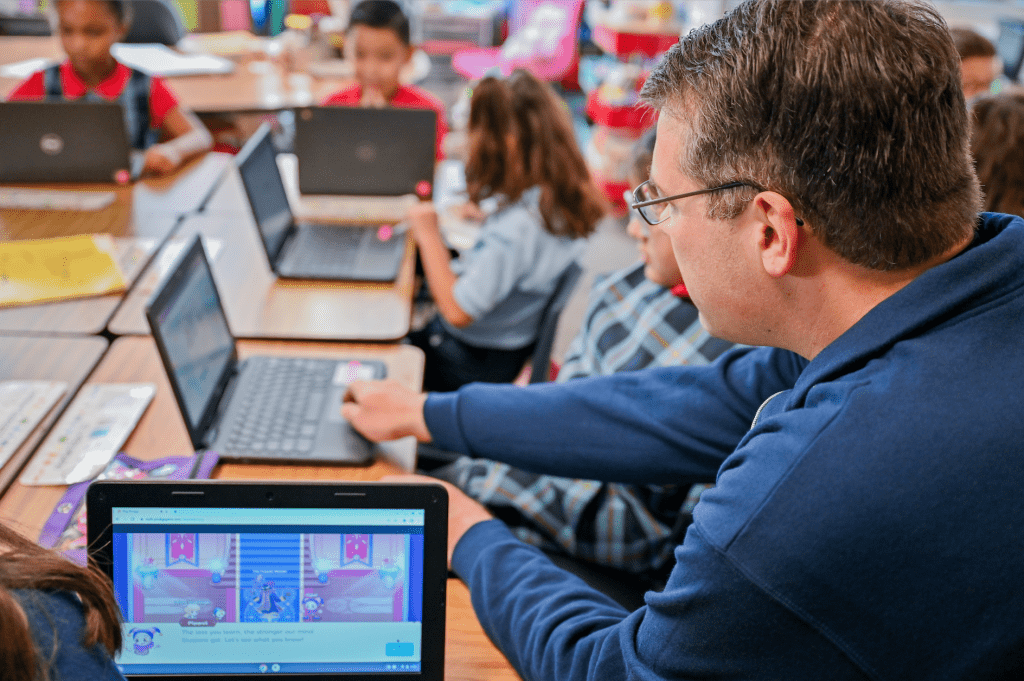 Smith said new school staff are often surprised when they find out that Norman is a volunteer and not an employee of the school.
"If we have any technical issues," Smith said, "Dan usually goes behind the scenes or walks us through any issues and resolves them quickly.
"The school wants someone as talented as Dan."
Norman, a software engineer at Garmin, says his career is "closely related" to the volunteer work he does, and that he likes to test his IT skills.
"It's not necessarily something a lot of people have knowledge or skills [for]," he said, "I can do it. "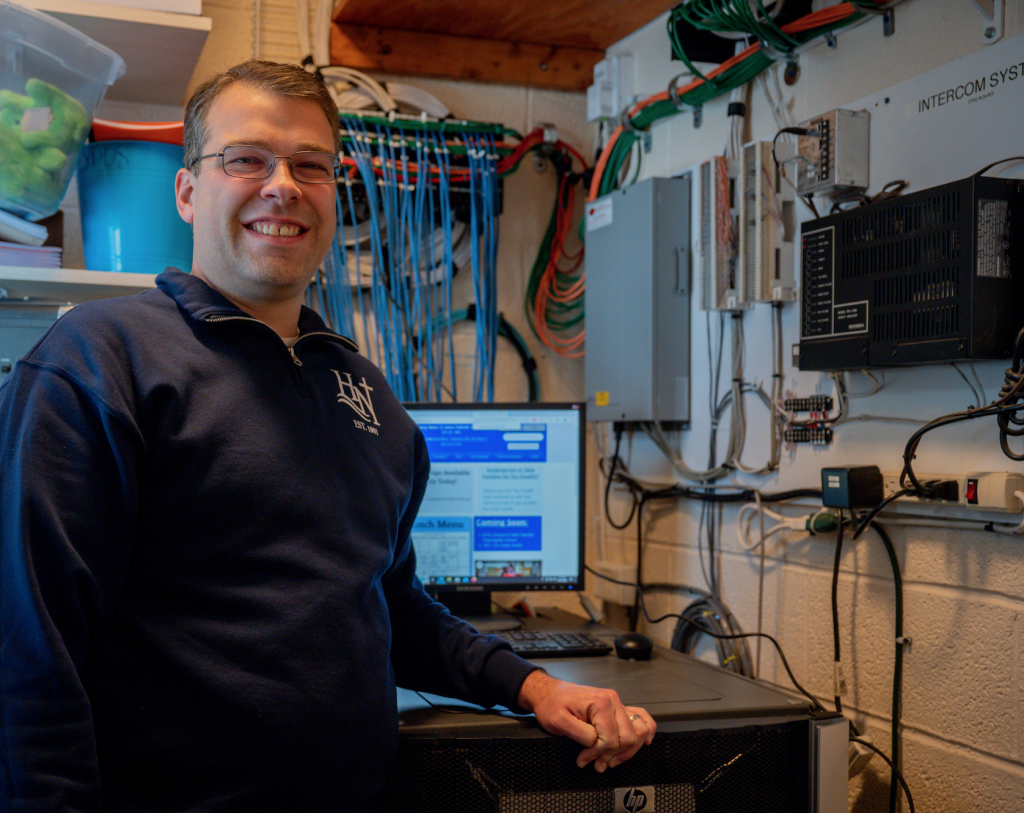 Serving the Holy Name business team is an added bonus.
"It's really exciting to see people come together for this, and they're now in a position to really meet some of the needs of the school. It's amazing," he said.
Smith echoed his admiration for the team.
"Each business team member has his or her own natural talent that they empower our team," he said, "but [the care] They are enriching for our school.
"Holy Name would have been difficult to keep open without our business team and their leadership. Our business team members have a common theme: love of the Holy Name."
Get rid of old tech and help schools
On September 9, the Holy Name School in Kansas City, Kansas, partnered with Adams Cable Equipment, Lenexa. 6 for e-waste recycling drive.
The school, which recently replaced old computers with new Chromebooks, has a lot to recycle and expand the opportunity to all parishes in the archdiocese.
The drive collected 7,016 pounds of electronics. Those who missed it can still drop off their used electronics at the Lenexa facility Monday-Friday from 9am to 4pm.
The event is free, and since recycling larger technical items often comes with a price, organizers are asking for donations to the Holy Name.
The school raised about $2,000 to install new phones, walkie-talkies and security systems at the school.
Those interested in making a donation to the same fund can visit: holynamecatholicschool.org/shop-1.