Many highways were blocked and train services were suspended, leaving many tourists stranded for days in Machu Picchu, unable to travel from the UNESCO World Heritage site to Cusco's international airport, nearly 50 miles away.
Colorado resident Tom Gray told NBC News in a video interview that his group managed to take the last bus back to the castle's gateway town of Aguas Calientes.
He said dozens of people were still stuck at the top of the mountain.
"Our guide had to bribe the protesters to remove the stone and let us go back to the hotel," said Gray, who arrived at Machu Picchu for the first time on Monday night. Their team had to cross at least 18 barricades made of trees and boulders guarded by local villagers, he added.
"We're about 200 people, not 5,000, which is the normal population," Gray said, adding, "The whole place is our own."
"Trapped here, there are silver linings everywhere," Gray said.
All trains to and from Machu Picchu were suspended on Tuesday, the Peruvian railway company said in a statement posted on Facebook.
"The Peruvian government is organizing four helicopter evacuations of the most vulnerable foreign tourists from the village of Aguas Calientes/Machu Picchu," the U.S. embassy in Lima said in a statement Saturday.
"The Peruvian government has notified the US embassy that plans are underway to assist the departure of all travelers from the village of Aguascalientes/Machu Picchu," it added.
The ministry said in a tweet on Sunday that nearly 400 tourists from Machu Picchu were escorted by tourist police to the Ollantaytambo district northwest of Cusco, before taking buses to the airport.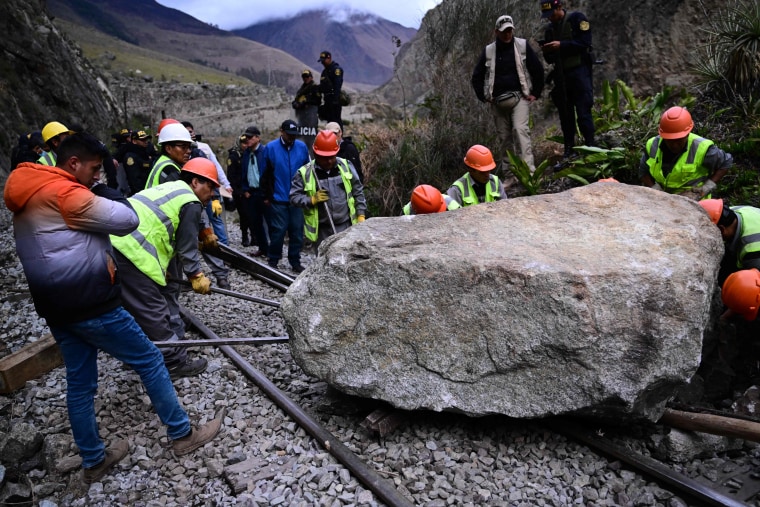 On Saturday, the ministry said it planned to "facilitate humanitarian flights", prioritizing the elderly and vulnerable groups.
The violent unrest prompted the US State Department to advise citizens to "reconsider" travel to the country, along with similar guidance from other countries, including the UK and Spain.
As advised, Daniels and McLaughlin booked a Sunday night flight out of Lima, while Gray booked a Tuesday flight. "We can get to the Cusco airport, which is open and can take us to Lima," Daniels told NBC News, adding that she would be on her way once the trains resumed.
"While we miss our family; we want to go home. Our kids all flew in to spend Christmas with us and they're probably doing just fine without us," McLaughlin said.
Matthew Bodner with Associated Press contributed.