Sponsored by: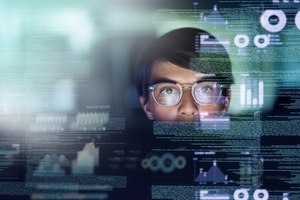 Register now to watch this on-demand webinar
During this webinar, a panel of experts discusses the results of the second annual Verizon Frontline Public Safety Communications Survey, and the responses from more than 2,000 first responders tell us how fast, reliable, and secure communications technology is successful in any emergency response the importance of efforts and how public safety communications technology is evolving.
Speakers also discussed how the speed and reliability of 5G can help change the public safety landscape and the innovations and capabilities it is helping to enable.
Finally, these three prominent leaders in public safety talk about how they have witnessed the evolution of public safety communications technology throughout their careers, and how they believe technology will help shape the future of public safety operations, enabling first responders to do more Get the job done safely and efficiently.
what attendees shared
"I like discussions from multiple angles."

"An engaging discussion of panel expertise and important topics on how current and future technologies can play a role in security and emergency response."

"Real-life speakers talk about their personal experiences using technology in the field."
Measuring speakers

Cory Davis, Assistant Vice President, Verizon Frontline
Cory has nearly 20 years of advanced wireless technology and public safety leadership experience. Currently, he serves as Assistant Vice President for Verizon Frontline.His team works with public safety and public sector agencies across the country to help them stay connected, innovate, plan for the future, alleviate pain points and prepare for crises and emergencies.
Kara Kalkbrenner, former chief of the Phoenix Fire Department
A native Phoenician, Fire Chief Kara Kalkbrenner joined the Phoenix Fire Department in 1985. During her more than 37 years of service, she has held the positions of Fire Engineer, Fire Chief, Chief, Deputy Chief and Administrative Assistant Chief.
Chief Kalkbrenner is one of only six female fire chiefs in the country's metropolitan fire department. Her philosophy is that public administrators are community stakeholders and play an integral role in shaping the communities in which they work and live. Chief Kalkbrenner leads 2,300 members, oversees an operating budget of more than $550 million, and carefully manages taxpayer funds and city resources while serving as the Phoenix Fire Department's fire chief.
Chief Kalkbrenner holds an associate degree in fire science from Phoenix College, a bachelor's degree in fire service administration from the University of Ottawa, and a graduate of the Naval Graduate School. She has served as an adjunct instructor for the Fire Services Program at Maricopa County Community College.
Karen Tandy, former Director of the U.S. Drug Enforcement Administration (DEA), member of the Homeland Security Advisory Committee and the Committee to Combat Synthetic Opioid Trafficking
Karen P. Tandy has more than 40 years of leadership experience in the public and private sectors, as well as executive committee experience serving on for-profit and not-for-profit boards. She leads a government affairs consulting firm in Washington, DC.
Mrs. Tandy, appointed by President George W. Bush and unanimously confirmed by the U.S. Senate as the first woman to lead the U.S. Drug Enforcement Administration (DEA), managed a $2.4 billion budget and 86 global operations from 2003 to 2007 During her tenure, DEA dismantled more than 80 percent of key drug trafficking organizations, reduced drug use by 23 percent, and brought workplace drug use to its lowest level in nearly 20 years.
Mrs. Tandy was appointed by the U.S. Congress in 2020 to the Committee to Combat Synthetic Opioid Trafficking. She is the chairman of the board of the National Center for Missing and Exploited Children and has led its Law Enforcement Action Committee. She is also a member of the U.S. Department of Homeland Security Advisory Committee (DHS HSAC). Mrs. Tandy is an attorney with the Texas and Virginia law firms and the founder and principal of KPT Consulting, LLC. She lives in Northern Virginia.
Sandy Jo MacArthur, First Responder Training and Education Consultant, Former Assistant Director, Office of Administrative Services, Los Angeles Police Department (LAPD), and former Captain of the LAPD Civil Rights Integrity Division
Sandy Jo MacArthur has more than 40 years of policing with the Los Angeles Police Department, 35 full-time officers and 5 reserve officers. She earned the rank of Assistant Commissioner before retiring in 2015 and continued to work in the Department of Training and Education. Her experience includes field operations, budgeting, technology, 9-1-1 centers, personnel recruitment and promotion, police training, and employee health. Her expertise includes handling cases involving people with mental illness; crisis intervention strategies; use of force training, skills development, and adjudication; relationships and resources; diversity and discrimination; conflict management; curriculum design; and training delivery.
Mrs. MacArthur, who currently serves as the mental health training coordinator in the Los Angeles District Attorney's Office, teaches de-escalation techniques to law enforcement officers across the county when handling service calls involving mentally ill people. She is an adjunct professor at Pepperdine University School of Law where she teaches the psychology of mediation and conflict. She also consults with law enforcement agencies across the country. She also collaborates with the University of Chicago Crime Lab, assisting with several programs related to the Chicago Police Department, including employee wellness, early intervention programs, and various trainings for incumbents.
Mrs. MacArthur received a bachelor's degree in criminal justice from Arizona State University in 1980, a master's degree in behavioral science from California State University, Dominguez Hills, in 1997, specializing in negotiation and conflict management, and is currently pursuing a doctorate in psychology.
Register now to watch this on-demand webinar