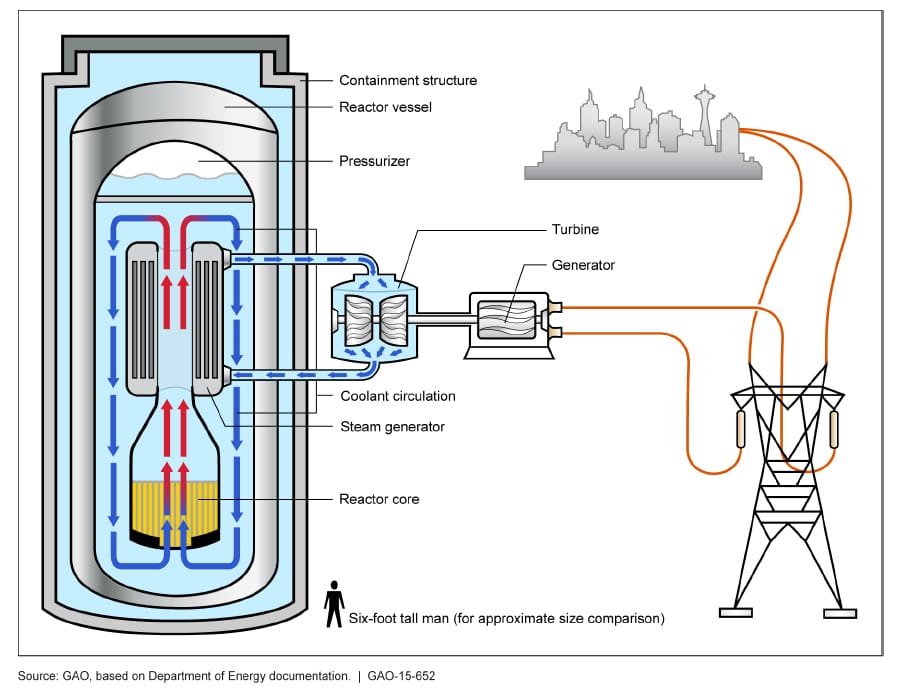 Illustration of a Light Water Small Modular Nuclear Reactor (US Government Accountability Office)
Editor's Note: This story was originally published protector. It appears here as climate desk Cooperation.
The next generation of small nuclear reactors advocated by the coalition will raise electricity prices, slow the use of renewable energy and introduce new risks of nuclear waste, according to a report by the Australian Conservation Foundation.
But the conservation group's report found that only two small modular reactors (SMRs) are known to operate around the world, in Russia and China, and both have seen huge cost blowouts.
Promoters of nuclear energy are pinning their hopes on "uncertain and unproven" technology, the report said.
"The good news about revisiting the nuclear issue is that it emphasizes that fossil fuels cannot be used as usual," the report found.
"The bad news is the real risk of delays, distractions and failure to advance a just energy transition".
During question time last week, Energy Secretary Chris Bowen mocked the coalition for pro-nuclear and asked which lawmaker would be willing to build a reactor among their constituents.
Australia has effectively banned nuclear energy since the late 1990s, but some Coalition senators are pushing for those restrictions to be lifted.
Opposition Leader Peter Dutton has commissioned shadow climate minister Ted O'Brien to review the state of nuclear energy.
Dave Sweeney, the ACF's nuclear-free campaigner, wrote in the report that SMRs drive up electricity costs and create unnecessary challenges in managing nuclear waste.
"In short, Australia's energy future is renewable, not radioactive," he wrote.
According to the report, Russia's floating nuclear power plant, Akademik Lomonosov, has two small SMR units on board. Construction costs have ballooned sixfold.
In 2012, work began on a demonstration plant in China with two gas-cooled reactors that was completed nine years later at a cost of $8.8 billion.
"The reality of global SMR simply cannot match the rhetoric of Australian SMR," the report said.
Three other SMR plants are under construction in Argentina, China and Russia, but have been plagued by rising costs and delays, the report said.
In June, a study in the Proceedings of the National Academy of Sciences showed that future deployment of SMRs could increase the amount of nuclear waste by a factor of 2 to 30, depending on the design.
In a report to the Minerals Council of Australia last year, nuclear energy analyst and advocate Ben Heard argued there was a lack of standardisation work on the true cost of SMRs.
But he said SMRs would "have a significant place in the lowest-cost decarbonised economy" and if they were available in Australia, they would "broaden the path to a decarbonised future".
Heard believes that SMRs can operate for more than 40 years, providing zero-carbon electricity.
He wrote: "Deploying nuclear power technology requires a national boost in capabilities and capabilities that a country has retained since then.
"The journey may be accelerated, especially for a country like Australia with mature capabilities, but it cannot be rushed."
The IEA said in June that SMRs were not yet commercially viable, but "lower cost, smaller scale and lower project risk" could improve social acceptance.
Support for and interest in the technology is growing in Canada, France, the United Kingdom and the United States, the report said, adding: "But successful long-term deployment of SMRs depends on strong support from policymakers from now on, not just to mobilize investment , but also to simplify and harmonize the regulatory framework."