The Australian Government Research Fund has awarded $1.7 million ($1.1 million) to accelerate the use of gene therapy to treat diseases other than COVID-19 using messenger RNA (mRNA) technology to target three major cardiovascular diseases.
The Baker Heart and Diabetes Institute, one of Australia's oldest medical research institutes in cardiology, has welcomed funding from the Medical Research Future Fund (MRFF).
"We thank the MRFF for funding us to advance this important research," Xiaowei Wang, head of molecular imaging and theranostics at the Baker Institute, said in a September statement. 28.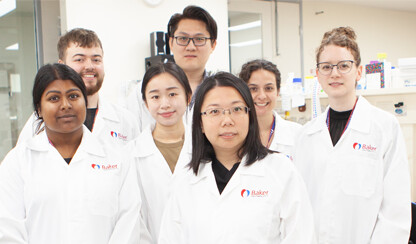 Associate Professor Wang said mRNA-based therapies would directly reduce inflammation and blockage in three major heart diseases – atherosclerosis, pulmonary hypertension and abdominal aortic aneurysm – for which current treatments are limited and all start with inflammation .
"For each of these cardiovascular diseases, we will use novel nanoparticles to design a unique delivery system that targets the disease and then triggers the release of mRNA," Wang said.
She said these therapies require smaller doses because they are targeted.
"Current drug therapies require high doses because they are not specific to the diseased area and have harmful systemic side effects," Wang said.
"The mRNA-based targeting strategy we're investigating can halt the progression of inflammation, offering the opportunity to prevent cardiovascular events such as heart attack, stroke and heart failure without unwanted side effects."
Nanoparticles may weaken immunity
The rapid development of mRNA vaccines against COVID-19 has made mRNA companies hopeful for developing therapies against other targets such as heart disease, cancer, liver disease and multiple sclerosis.
However, the Vaccine Adverse Event Reporting System (VAERS) has reported an increase in the incidence of diseases, including cancer, following the COVID-19 vaccine, most of which were mRNA vaccines.
In the VAERS database, 284 breast cancer cases have been reported following COVID-19 vaccination, compared with only 350 cases in VAERS history.
There have also been reports of shingles. VAERS data shows that 7,559 cases of herpes zoster have been reported following the COVID-19 vaccine.
Throughout the history of VAERS, 28,180 cases of shingles have been reported after any vaccination, which means that about a quarter of all shingles cases have occurred after a COVID-19 vaccination.
A recent pilot study observed that nanoparticles used to deliver mRNA in a COVID-19 vaccine suppress and alter immune responses, revealing adverse events.
A 2021 Philadelphia University study also found that nanoparticles, which it claims are nontoxic and safe, are highly inflammatory.
In Australia, a fifth dose is recommended for people who are severely immunocompromised or have underlying disease or disability.