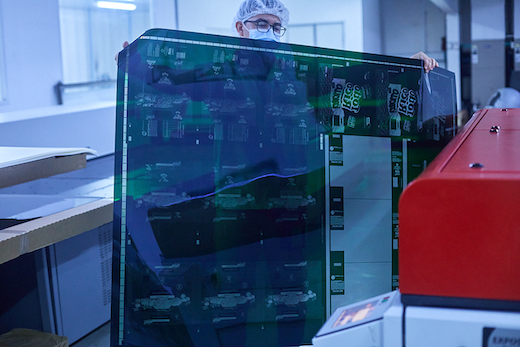 The concept of cooperation is taken to new heights, "to highlight the possibility of close cooperation between processors and brands"
In today's fast-changing and dynamic packaging industry, partnerships between processors and brands are critical. Many companies have made such collaborations an important part of their strategies, but few have elevated the concept of collaboration to the level of Colombian flexible packaging processor Litoplas. Add its sophisticated approach to Extended Color Gamut (ECG) flexo printing, which, according to the company's chief customer officer, Luis Mora, "can only be implemented successfully with FLEXCEL NX plates" and you've got an award-winning business Strategy.
Food packaging, established in 1967, is the main product of its manufacturing plant in the northern city of Barranquilla (a second plant will open in Guatemala in 2023). The Litoplas website describes the company's mission as "providing unique solutions through the design, development and manufacture of flexible packaging" and its vision is to be the brand's "preferred partner for flexible packaging value".
The partnership between Litoplas and its customers was one of the things that was on the minds of the jury of the Miraclon-sponsored Global Flexo Innovation Awards, and Litoplas won Silver in two categories: Gravure-to-Flexo Conversion and Efficiency in in the print production workflow. The judges noted that Litoplas' entries — all of which are examples of ECG prints made using FLEXCEL NX plates — "highlight what can be achieved when converters and brands work closely together."
"Only FLEXCEL NX technology makes ECG possible"
Litoplas first added ECG printing to the toolbox in 2015. "We saw ECG at drupa, and at first glance it looked amazing as it offers efficiency and capacity advantages to processors and brands, especially where shorter turnaround times are required and an increase in SKUs. However, , it also seems utopian because the all-important statistical process control is missing at first. Anyone can buy a machine, the ink exists, but you won't get the productivity benefits without tight process control. For us, this A serious flaw that was not corrected until the advent of FLEXCEL NX technology."
He recalls that when Litoplas invested in the FLEXCEL NX system in 2017, "We understood what was required to make an ECG work, and the flat apex made all the difference. Our previous technology was plagued by pinholes and voids that and voids produce poor process control data. Flat-topped dots provide accurate, predictable and consistent color. Without it, great ECG printing would not be possible."
There are other ways that FLEXCEL NX boards can enable ECGs to show their potential, Luis said. "We can print more vibrant colors without using too much ink, increasing the impact on the shelf at a competitive price. And the flat-top dots don't wear out, they remain stable during operation, so We reduced the number of times the press was stopped for adjustment."
Tightly embedded partnership
Luis Mora's role as Chief Client Officer at Litoplas is a testament to the firm's strong embedding of client partnerships at the heart of the business. To ensure this, Litoplas formalized the concept into two models – a "cooperative model" aimed at "building trust through collaboration", and a "packaged value model" aimed at creating value through technology.
These models are the result of careful thought and analysis, as Luis Mora explains: "We are a very technology-focused company, and the idea of ​​applying technology to create value is very important to us. But we recognize that customers trust us to provide suitable Their level of technology and support is critical." He goes on to explain how the value-packaging model achieves this. "The model has four 'levels' – 1 to 4 – to which clients are assigned based on which technologies in our toolbox best meet their requirements. The higher the level, the more our technologies the client can call upon many."
A major benefit of this approach, he continued, is that "it prevents us from over-promising and under-delivering, as that would damage trust if that happens. Take the ECG as an example: we only offer it to level 3 customers because they Possess an appropriate level of technical expertise."
At the same time, the Collaborative Model complements this approach by reimagining how Litoplas' employees work with customers' internal employees. "Businesses today are too complex to have a one-to-one relationship on their own, so now our structure encourages a fluid conversation between all of our clients who work for them and their corresponding contacts. In this way, both companies Every conversation between them is of high quality, which builds trust."
Patience, effort and trust drive ECG adoption
As with any radical new technology, persuading customers to implement ECG printing requires patience, hard work, and trust between the converter and the brand. The reason why Litoplas only offers ECG to Tier 3 customers becomes clear when Luis describes the negotiations involved in planning a typical gravure-to-flexo conversion. "Sometimes, in order for FLEXCEL NX technology and ECG to work to their advantage, customers may need to change the design slightly. For example, we recommend printing small fonts in a single color to avoid any possible misregistration. Alternatively, enabled by FLEXCEL NX Plates The pastels are a big advantage brands can play. Mature conversations like this don't happen the first time you have a conversation. But it's a different story if we talk after we've earned the trust of our customers."
The execution of the award-winning Cordillera dark chocolate packaging for Compañía Nacional de Chocolates is a prime example of the implementation of Litoplas' partnership strategy and the company's innovative approach to marketing technology. The committee is a direct result of the "Packaging Academy" Litoplas organized to show clients what ECG is – as Luis puts it, "showing the pros and cons, and how we can best replicate their work.
"We asked the design team to give us a really challenging job, and they did it. It's a premium chocolate product that is currently packaged in cardboard, but they wanted to switch to flexible packaging. The color of the chocolate on the packaging had to exactly match the product itself, And since both forms of packaging will be sitting side-by-side on the shelf for some time, it is critical that there is no difference in color between cardboard and flexible packaging. They also want to get the product to market as quickly as possible and in relatively small volumes."
Litoplas met the requirements in every way, using greens, oranges and purples in the ECG to bring out the vivid, dense colors that the client liked and matched the background colors precisely. In an aggressive method of color measurement, to match the color of the chocolate, Litoplas even spreads real chocolate on a piece of Pantone white paper and uses a color measurement system to measure the color.
Improve traditional technology
As Litoplas prepares to enter Guatemala next year, ECG printing will continue to be at the heart of the company's offerings – so much so that one of the three new presses in Guatemala will be a custom Bobst machine dedicated to 100% ECG production. "As for what share of production ECGs can achieve," Lewis said, "to migrate customers to ECGs, we need to build an ECG technology that is better than traditional technology. We believe we're busy doing that."
He added that Miraclon has provided excellent support so far, and he hopes this will continue in the future. "We value their support in improving print capacity and print performance. With Colombian in-country technical support, any issues are resolved quickly – one thing Miraclon has is the ability to adapt, backed by perseverance. If not We couldn't have been so successful with Miraclon."