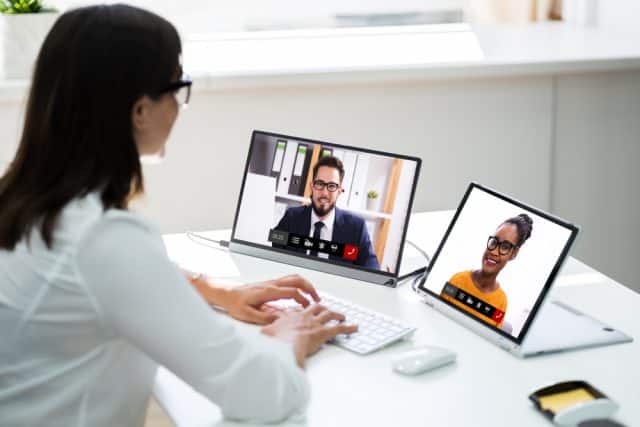 The methods and tools used to conduct office work are rapidly expanding to accommodate a wider range of employee situations and needs, including hybrid schedules and fully remote employees, each requiring different support structures to optimize workflow and communication. While the tasks and responsibilities of most employees have not changed, many are adapting to different physical spaces and expectations to participate in virtual meetings or collaborate with colleagues who traditionally share a common workplace.
To help companies ensure consistent productivity regardless of employee location or situation, there are many new collaboration solutions that can help meet any budget, space or need.
New office experience
Today, a corporate office is just one of many places we might work on any given day. For many companies, this shift has occurred naturally, as people increasingly prefer laptops that offer more flexibility than desktop computers in office spaces and when working remotely.
In response, powerful, lightweight laptops were used to meet the needs of everyone from accountants to graphic designers. This could be a huge benefit for urban workers who commute on foot, by public transportation, or by bicycle. Additionally, individual employees may have different requirements for graphics processing or screen size, making it more important than ever for IT managers and buyers to identify technology partnerships that can provide a variety of fully compatible solutions to meet each specific need partner.
Office work has also changed, with the industry trending toward more consistent inter-office collaboration, with some offering virtual attendance for meetings that traditionally crowd field workers into close quarters. Whether it's for health reasons or simply providing easier access for more employees, there are now many tools available to facilitate a variety of meeting types.
What's more, easy-to-use collaboration tools, such as touchscreen whiteboards that allow for recording, file sharing, and real-time video communication, can be permanently installed or even attached to mobile carts for use in multiple spaces throughout the day. For pure video conferencing needs, many organizations can benefit from an all-in-one solution that combines a high-definition DVLED or LCD display with speakers, a camera, and an integrated PC for true plug-and-play collaboration without any wiring or setup assistance.
Optimizing the value of space
Because each worker may need different tools and support every day, designing spaces and systems with built-in flexibility can help organizations adapt to constant changes in worker expectations and variable health regulations that previously impacted the ability to remain productive. Flexibility can mean different things for different types of jobs, but one thing in common is providing mixed workers with high-quality computer monitors for use in the office. If these workers are only rarely in the office, they may not need permanent workstations, but it is important to ensure that efficiency is not compromised by a lack of satisfactory tools.
The monitors themselves have evolved to be more ergonomic and offer special features, such as ultra-wide or "dual" monitors, which provide a larger digital workspace without the need for extra wires or power cords. The latest design includes dual monitors, allowing workers to view documents in two overlapping widescreen landscape views, so even the smallest desk space can accommodate a multi-screen solution. They are ideal for flexible or part-time workspaces, as they can be placed almost anywhere without interrupting the space required by full-time office workers.
This extends to the home office as well, where ergonomic monitors can provide a more comfortable work day in general and help businesses in their efforts to relieve some workers of the stress of traditional monitor design and placement. For hybrid or fully telecommuting employees, employers must decide where to invest their technology dollars to provide the most benefit. Some employees may justify a business's investment in home office technology, especially for larger organizations that require virtual desktops or secure logins to maintain data security.
The future of work is inclusive
Strict nine-to-five work schedules and the old system of cubicle farms are now less important than ever, and many jobs require off-hours communication, variable schedules, and flexible locations, which can be a Long-term epidemiological effects. As work cultures continue to change and new technologies enable more efficient and collaborative use, the most successful organizations may be those that adapt their employees to encourage retention and company loyalty.
While different organizations, and even entire industries, may have different opinions on the appropriateness and quality of home and hybrid work, tools exist now to maximize collaboration and extend the capabilities of corporate offices to almost anywhere on the planet.
Photo credit: Andrey_Popov/Shutterstock
Kevin Schroll is Director of Marketing Strategy for LG Business Solutions USA, a company that provides award-winning monitors and laptops to businesses and their employees working in the office and remotely.