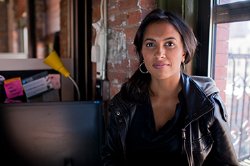 September 27, 2022
Award-winning filmmaker Shalini Kantayya will bring her knowledge of the dark side of technology to a gallery talk titled "Coding Bias: How Human Bias Creates Corrupt Technology."
Her talk will be on Tuesday, October 2nd. 11, at the Dowd Gallery in SUNY Cortland.
Film director Jaroslava Prihodova said it was a rare opportunity to meet a successful, award-winning filmmaker face-to-face on campus. Dodd Gallery, Dodd Fine Arts Center at the corner of Prospect Terrace and Graham Avenue
"Shalini Kantayya is a versatile filmmaker with a long history of prestigious and award-winning projects," said Prihodova. "Unfortunately, we often don't have the opportunity to meet the creatives behind the camera and ask questions directly. This event provides a unique opportunity for students and visitors to meet and interact with Kantayya in person."
Kantayya's gallery talk begins at 5pm at the Old Main Brown Auditorium.
Gallery events are free and open to the public.
Kantayya's recent documentaries "Coded Bias" and "TikTok Boom", will be screened before the lecture, everyone examines algorithms that are used and abused in everyday life. Silicon's promises of style, comfort and entertainment also bring pressing concerns about privacy, bias and public surveillance.
"TikTok Boom" will take place on Thursday, October 10th at 5pm. 6 at Dodd Gallery.
The second film, "Coded Bias," is available on Monday, October 10th at 5pm. 10, in the Brown Auditorium.
"coding biasis released in 2020 and questions whether freedom is at risk if the technology that runs the modern world is itself programmed according to the unconscious biases of its creators. It is featured on PBS's PBS before being shown to a global audience via Netflix in 2021. Screened nationwide on independent footage. The film was nominated for a Critics' Choice Award and the NAACP Image Award for Outstanding Documentary.
Kantaya's"TikTok booms," released this year, explores the rise of the popular social media app and the conflict between the culture of its global Gen Z user base and the data monitoring inherent in its use. It will debut on Independent Lens on October 24.
"The lecture shows that our world is built in the image of its creator, without all inhabitants in mind," Prikhodova said. "We often succumb to the conditions of the build without thinking.
TikTok Boom will be screened on October 5 at 5 p.m. 6 At the Dodd Art Gallery, Dodd Fine Arts Center, Room 106. "Coding Bias" can be seen on October 5th at 5pm. 10 Brown Auditorium in Old Main. Kantayya's gallery talk will be held at Brown Auditorium on October 11th at 5pm
Films and lectures related to current exhibitions at Dowd Gallery, the artist "The Runaway" by Beth Livingsberg, It itself examines the impact of rapid technological change. One of Dowd Gallery's goals, Prihodova said, is to tackle tough topics and spark useful conversations.
"The exhibitions organized by the gallery have been carefully selected to fulfill the educational mission of the Department of Art and Art History to provide spaces for questioning, inspiration and the mundane," she said. "We hope to provide thought-provoking programming that inspires and promotes education for all visitors. , not just students."
Gallery hours are Monday, Tuesday, Wednesday and Friday 10am-5:30pm, Thursday 10am-7pm or by appointment.
"Fugitive" was funded in part by the Pollock-Krasner Foundation and the CUNY Staten Island Provost Research Fellowship. SUNY Cortland support includes the Department of Art and Art History, Art Exhibition Society, Cortland Auxiliary Services Grants, Campus Artists and Lecture Series, Department of Communication and Media Studies, Cultural and Intellectual Climate Council, Office of the Dean of Arts and Sciences , Department of Economics, Office of Institutional Equity and Inclusion, Haynes Fund, Office of the President, Provost and Vice President for Academic Affairs, Student Government.
Visit the Dowd Gallery website for details on participating artists, other programs, safety protocols and online reservations. For more information or to inquire about appointments, tours or other images, please contact Dowd Gallery Director Jaroslava Prihodova at 607-753-4216.
---