A 15-year-old suspect was detained after a "prolonged confrontation" with police after a shooting in Raleigh, North Carolina, on Thursday night killed five people and injured two others, officials said.
North Carolina Gov. Roy Cooper called the shooting "every community's nightmare."
The shooting occurred in a neighborhood northeast of downtown Raleigh, and residents were warned to stay inside. Mayor Mary-Anne Baldwin said one of the fatally injured was an off-duty police officer.
At a news conference Friday morning, Raleigh Police Chief Estella D. Patterson said the suspect was taken into custody by the coalition of local security agencies and that he was in critical condition.
He was not identified.
No information was shared about the motive or the suspect's background as the investigation is ongoing.
The victims ranged in age from 16 to 52, Patterson said.
They were identified as: Nicole Connors, 52, Susan Karnatz, 49, Mary Marshall, 35, off-duty Raleigh Police Officer Gabriel Torres, 29, who was on her way to work, and a 16-year-old white male. Raleigh-based NBC affiliate WRAL reported that the teen victim was James Roger Thompson.
In addition to the dead, two others were wounded in the shooting: Raleigh Police Officer Casey Clark, 33, was treated and discharged, and Marcille Gardner, 59, remains in critical state.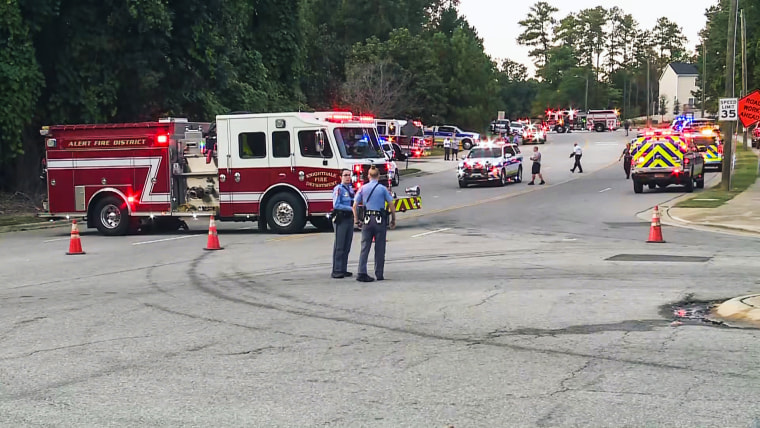 "The horror of the night has reached our doorstep," Cooper told reporters Thursday night. "Every community's nightmare has come to Raleigh. This is a senseless, horrific and outrageous act of violence."
"We have to end this mindless gun violence in our country. There are too many victims. We have to wake up," Baldwin said.
Patterson said Friday morning that the crime scene was "extensive" and stretched for two miles.
Police responded to calls about someone being shot in the 6000 block of Osprey Cove Drive shortly after 5 p.m. Patterson said the shooting took place on a nearby street before the suspect fled to the News River Greenway, where more victims were shot.
police station Advice to Residents Stay indoors in the leafy neighborhood known as Hedingham. Aerial video from NBC affiliate WRAL showed a large police presence.
A witness named Robert Anderson told NBC's "Today" that he saw the gunman from the rear deck.
"He has a camouflage shirt, camouflage pants, black boots, he also has a backpack and it looks like he's packed," he said in an interview that aired on Friday.
"He was walking, and when I told you he was walking, it was like nothing was happening," Anderson explained. "He was just looking straight ahead, his gun was on the side, the gun was pointing down, and he was just walking."
Another witness who spotted the gunman told WRAL She saw neighbors trying to help off-duty officers who were bleeding in the car.
A witness told the station she saw the gunman flee the scene and disappear into a nearby park. He was wearing black boots and looked like a teenager, she said.
"He looked like a baby," she told WRAL, adding: "I can't even explain it in words. It's not good."
correct (October 14, 2022 10:10AM ET): A previous version of this article misreported the age of one of the injured individuals. The victim in critical condition is 5​​​​not 50.
Lindsay Pipia contributed.